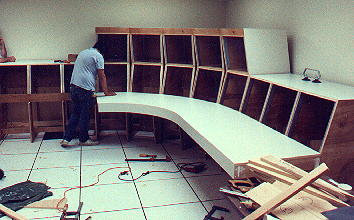 Animation Consoles


The VersEFX console was probably the biggest challenge, since there were so many complex angles involved. The console contractor nearly went crazy getting everything to come out exactly right, especially since Cliff Brown had decided that since the scanimates were white, our facility, computer flooring, consoles, everything would be white. Needless to say, white formica shows every ding, scratch, or smudge.

---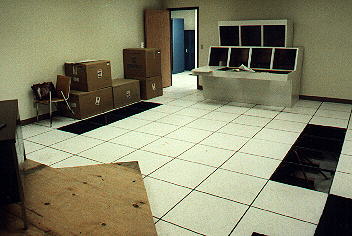 This was the console for the bay with the two Scanimates. The console held a Grass Valley 1600-7K switcher, the ADO console, and various timecode, routing, and monitoring equipment. The holes in the floor are where the Scanimates went when completed. The walls were covered with strips of fiberglass alternated with strips of wood, then dark burlap was applied, creating an echo-less quiet room. The master control room can be seen through the door.

---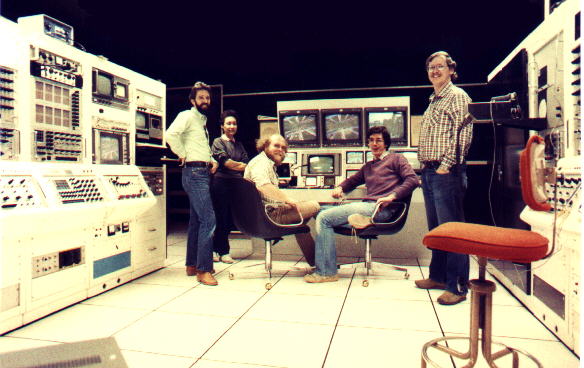 Here are the main people who helped me put this facility together. Shown are (L-R) Tony Costa, Megan Omi, Roy Weinstock, Peter Koczera, and me, Dave just minutes after we decided we were done and everything worked!

---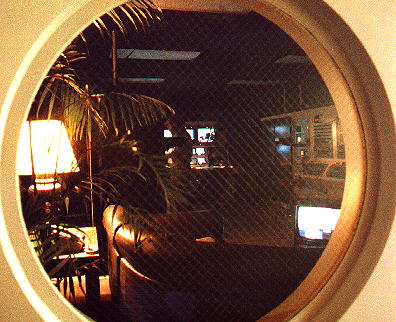 Cliff Brown insisted that there be a round "porthole" between the entry hallway and the scanimate room. Since clients sat at a couch at the rear of the room with the porthole behind them, this often resulted in a "fishbowl" atmosphere, but I guess it looked kinda different.
---
All images Copyright &copy Dave Sieg
---
Back to Dave's History Page
Please email me for more info: dave@zfxinc.net