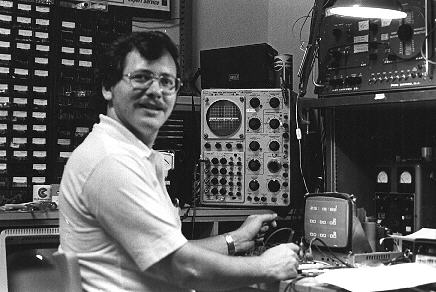 The Media Center
---
Facilities I designed and built while working for the University of Mississippi, 1973-1979

I went to The University of Mississippi straight out of high school, but I had worked at the local TV station, WKPT-TV while in high-schoool, and I had gotten my FCC first class license one summer. In my sophmore year, the University had an opening for an engineer to manage the new teleproduction facilities, and a pre-requisite was an FCC first phone. I was the only applicant with the license, so I got the job, and joined the University Staff. Here are some of the technical facilities I built, and the people I worked with:

---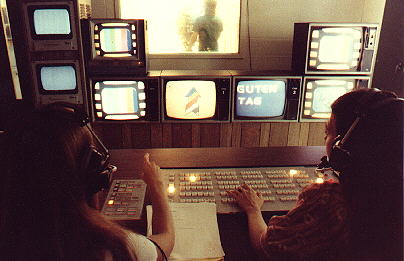 This view of the production control room is from the engineering master control room. The switcher was an old one donated by the Mississippi ETV network. Just beyond view is an Opamps Labs 16x4 audio console I built. The facilities were used for instructional production during the day, and at night Radio and Television students put on live and taped programs that were seen on campus and in Oxford on cable.

---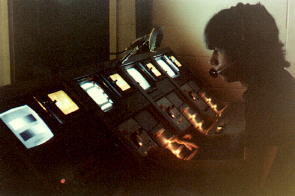 Here is Bill Caruthers at the camera control units for the Norelco studio cameras. The Norelco cameras were probably the biggest investment the University made in the facilities at the time. They were miles ahead of those awful IVC-90 cameras we had started out with. Bill now is senior editor of the Nightly Business Report at WPBT-TV in Miami. Here, he is shading camera for a "Guten-Tag" program in German, starring Dr. George Everett. He's either "getting the red out", or "there's too much jello in the picture".

---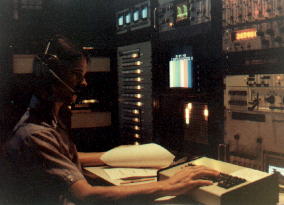 This is Paul Fredericks at the distribution and routing center, where exciting instructional material got sent out to the teeming masses in Bishop #102. Last I heard from Paul, he was working for an Oil and Gas exploration company, and was living in Singapore. Paul had degrees in about four things, like Math, Physics, Geology, and something else.

---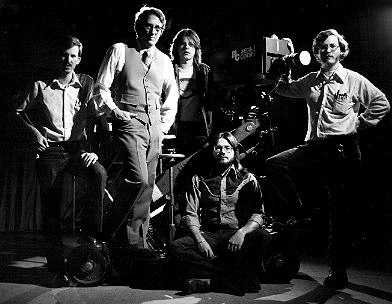 Here is the staff (before Marty joined us) posing with an ancient Houston Fearless crab-dolly donated by NASA, and an equally ancient IVC-90 color camera. Shown are: (L to R) Russel Lamb, (who still lives in Oxford), Jack B. Lacy, (who was last heard from working for the Mississippi Attorney General), Bill Caruthers, (Now with WPBT-TV in Miami), David Cole, (who has his own consulting firm in Washington D.C.), and David Sieg (me). Photo by Eddie Clement

---
Back to Dave's History Page
Please email me for more info: dave@zfxinc.net