Omnibus New York
On West 57th St.
---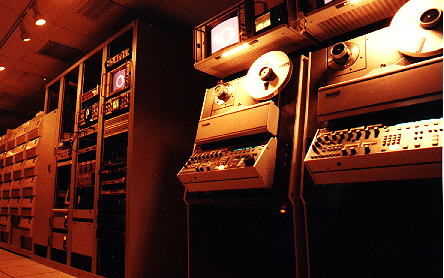 The New York Omnibus office was a neat little facility on West 57th St. Occupying three floors, the basement had offices, a kitchen and recreation area, while the ground floor held the computer and video equipment, as well as a complete edit bay. Omnibus New York had the first large digital disk video disk systems from Picture Element Limited, (PEL). The system shown at the left was capable of storing, playing, or recording up to 7400 digital video frames in real-time, (4.5 minutes of RGB RS170 video).

---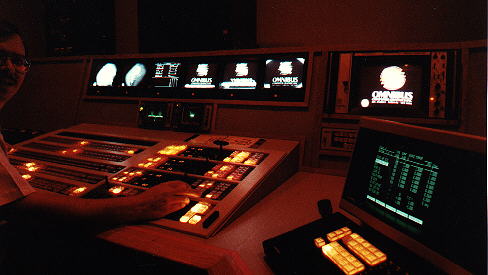 The New York office also had a complete post-production suite with 1"C VTRs, DVE, switcher and audio equipment. An Ampex ADO and full production switcher, along with three 1" VTR's were included and interfaced with the computer graphics capabilities. Here I am (partly on the left) testing the switcher.

---
This is a FAX I received from the New York office the day they shut it down. I don't know who the artist was, obviously somebody who worked there. It was titled "THE REAL REASON THEY CLOSED NEW YORK".

---
Back to Dave's History Page
Please leave your comments in the Scanimate Guest Book!